1 minute read
Managed IT services sometimes get a bad rap. But Jazz Admin as a Service (JAaaS) from ClearObject isn't about managed IT services. JAaaS is a managed service with an "IBM Jazz purpose." And it's structured especially for Jazz and Rational tools administrators who always seem to have too much to do and never enough time to do it.
New business case whitepaper
Why JAaaS? We've just published a new whitepaper to answer that very question. In a quick-read seven pages, the paper tells you what JAaaS is, why ClearObject offers it, and how it takes monotonous admin and maintenance tasks off your plate. Administration. Training & Implementation. Customization. Troubleshooting. Support. All the "pain points," you could say.
We've made sure the whitepaper makes the business case for JAaaS in other ways, too. Ways that reduce admin expenses to a fraction of the cost, while also making your life easier. We even answer some common questions we've been asked about the JAaaS managed service to date.
Being the long-time IBM Partner that ClearObject is (and having come from IBM myself), we know what you face every day. That's why we wrote this whitepaper with you in mind.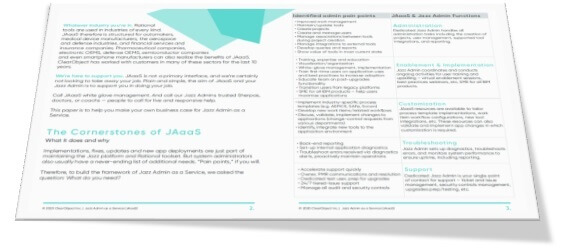 I urge you to download and read the paper to see if JAaaS might be of help. You know, to ease your workload and give you your life back. And if you still have questions or want more information, contact us. We'd like to hear from you.
---
About the Author

Ron Felice is a product owner in ClearObject's Engineering Product Development R&D group and is leading the charge for Jazz Admin as a Service. Prior to ClearObject, he was a solution architect at IBM, where he worked for 14 years. He has worked in the technology sector for 25 years overall.
About ClearObject
ClearObject is a digital transformation leader in Internet of Things (IoT) Engineering and Analytics. As IBM Watson IoT and Google Cloud Business Partners, we deliver global embedded software development environments for our customers, and design and deliver unique data analytics digital products that help them recognize the value of their data. Our objective is clear: help the world's best companies build intelligence into their products and gain intelligence from them. The future is clear. Do you see it?
#whitepaper #manageditservices #managedservice #asaservice #ibmjazz