Say your company has a new digital product development or application development project. As a customer, you need to be able to trust the firm you work with to develop your new product as expected. We understand that.
In fact, we encourage building a solid groundwork of trust and taking it a step further: As we're working with you to build your digital solution, we tie success directly to why it's being built. This is the purpose of our recently introduced Product Team as a Service (PTaaS) offering from ClearObject.
The aim of PTaaS is to create shared confidence that we're building the solution you envision. In the realm of product development, especially for digital products, this is a new way of thinking that helps us provide more value and metrics for the solution we deliver to you. More importantly, it helps you avoid building a solution that has no discernable positive outcome.
Agile model for product development
Under the framework of a PTaaS contract and its Agile model for software development, the product development process can start with smaller, mutually manageable engagements such as a design sprint and discovery sessions. This sets the course for your development project going forward. PTaaS also helps both sides identify further opportunities for your solution. Should you decide to build accompanying products, PTaaS gives you the flexibility to extend your contract accordingly.
Three core principles
Along with its Agile model, our PTaaS offering is based on the following principles.
Getting started is more important than being right. Rather than planning every detail of your solution and strategizing on the best way forward, take a smaller step to get started. This allows you to learn quickly during the product development process and avoid endless push-back. (The concept is similar to the one from Jack Strachan in his January 2018 UX Planet blog post with this title.)
Scope doesn't creep, understanding grows. This comes from author Jeff Patton and his book, User Story Mapping (2014). In PTaaS terms, when it comes to being innovative, you're likely trying to solve a problem using a new solution. But by the definition of "new," you won't know what you don't know. Again, instead of trying to plan an entire solution path for your product development project, PTaaS allows you to simply get started, follow an Agile model path, and grow your understanding of your solution's ultimate outcome as you go.
Your product will not be perfect for everyone. It's one of the cold hard truths of digital product development and application development. No matter how much time you spend, the product you create will never please every user 100% of the time. Instead, set up your product to learn from users and continue to develop and improve it as time goes on.
As the adage goes: Build the right product. Build the product right. And build the right product fast.
Why Use PTaaS? Download the whitepaper to learn more about the benefits of engaging an external Product Team, along with more insight into our processes and strategies for success.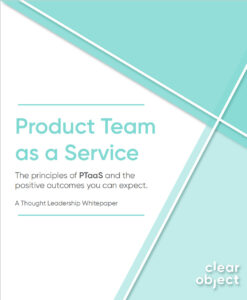 There's more to PTaaS than we've discussed here. For the rest of the PTaaS story, we've published a new whitepaper that explains how PTaaS works, what elements should appear in a PTaaS contract, how ClearObject delivers to our PTaaS model and more.
Download the PTaaS whitepaper to read why your organization should consider putting PTaaS to work for a new digital product development or application development project.
---
About the Author

Derek Bleyle is a Product Manager for IoT and Data Analytics at ClearObject. Including his stint for a "pre-eminent engineering company focused on innovation and world-class power and propulsion systems," he's worked in digital product development for going on 12 years. He also knows all there is to know about PTaaS.
About ClearObject
ClearObject is a digital transformation leader in Internet of Things (IoT) Engineering and Analytics. As IBM Watson IoT and Google Cloud Business Partners, we deliver global embedded software development environments for our customers, and design and deliver unique data analytics digital products that help them recognize the value of their data. Our objective is clear: help the world's best companies build intelligence into their products and gain intelligence from them. The future is clear. Do you see it?
#productdevelopment #applicationdevelopment #agilemodel #whitepaper