1 minute read
Even at this stage in its evolution as a technology, it's still a common question:
What is machine learning?
If you think of the ways we use machine learning applications every day, ML is the brain behind the playlists you personalize in Pandora and Spotify. It's virtual assistants like Siri and Alexa, which use machine learning applications to support speech recognition, speech-to-text conversion, and natural language processing. It's Pinterest, which uses machine learning-based computer vision to extract information from images and identify objects to be pinned.
Even Uber relies on machine learning applications to predict customer demand for drivers and determine their pre-location status.
But a machine learning model is also what x-rays your customer profile to search for suspicious buying patterns in line with fraud detection. With techniques such as Multi-layer Perceptron and C 4.5 Decision Tree Induction, ML is what determines that spam filters are continuously updated. And in healthcare, providers are increasingly planning machine learning projects to improve things like drug development and testing, patient care, and records management.
Machine learning tutorial
With our new Machine Learning Playbook, we ask the What is machine learning question in a more tutorial way: How does an organization identify the need for ML solutions, and then plan, develop and implement machine learning projects?
For engineers, managers, and domain experts, our playbook provides a framework to identify best fit opportunities for ML solutions throughout your organization. It's also a complete guide to help you navigate the process of planning and implementing machine learning projects successfully, with best practices for:
Process Mapping
Data Identification and Validation
Data Aggregation
Data Exploration, Cleaning and Engineering
Data Labeling
ML Algorithm Research
ML Training and Tuning
ML Deployment
Model Improvement and Sustainability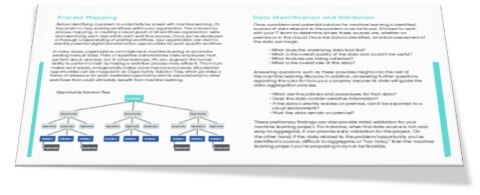 If ML is on your organization's roadmap, we're here to help. Consider our Machine Learning Playbook the starting point.
The Playbook's authors
Kishan Bhoopalam is ClearObject's principal data scientist in the company's IoT Product Development group. He's also our resident authority in applying machine learning to problems of all kinds, in organizations of every kind.
Derek Bleyle is a Product Manager for IoT and Data Analytics at ClearObject. Having worked in digital product development for nearly 12 years, he's seen ML become the intelligent and wide-ranging solution it is today.
About ClearObject
ClearObject is a digital transformation leader in Internet of Things (IoT) Engineering and Analytics. As IBM Watson IoT and Google Cloud Business Partners, we deliver global embedded software development environments for our customers, and design and deliver unique data analytics digital products that help them recognize the value of their data. Our objective is clear: help the world's best companies build intelligence into their products and gain intelligence from them. The future is clear. Do you see it?
#whatismachinelearning #machinelearningtutorial #machinelearningapplications #machinelearningprojects