1 minute read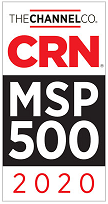 CRN Magazine defines its annual Managed Service Provider 500 list as recognizing the "top technology providers and consultants whose forward-thinking approach to providing managed services is changing the landscape of the IT channel." The magazine announced its MSP 500 lineup for 2020 on February 18th.
This year CRN has classified ClearObject in the list's Pioneer 250 category. Other categories in the MSP 500 include the Elite 150 and Managed Security 100. 2020 marks ClearObject's second appearance in the well-regarded lineup after initially making the list in 2018.
The MSP 500 is compiled annually by CRN editors, who published their inaugural list in 2014. At the time, CRN's editorial staff cited the trend of businesses turning to managed IT services to fulfill expanding IT needs. For the managed service provider channel overall, the trend spurred a "major transformation" as providers began moving to a recurring revenue business model and adding managed IT services and professional services to their offerings.
The managed service space has continued to grow accordingly, from $145.3 billion in 2016 to a projected $282 billion by 2023, according to research from MarketsandMarket.
Managed IT Services from ClearObject
For application and product development teams using IBM's software development tools, the ClearObject Engineering Cloud managed service offering migrates, deploys, and manages IBM's tools in the cloud for such teams.
In tandem with IBM's Enterprise Lifecycle Management (ELM) solution, IBM ELM Managed Services by ClearObject feature a complete integration layer for ELM structured by IBM. These cloud-based managed IT services give product development teams a hosted ELM-oriented requirements management configuration without having to dedicate their own IT resources.
Also for software engineering and product development teams using IBM's Rational tool set within the ELM environment, our Jazz Admin as a Service (JAaaS) offering provides administration, training & implementation, customization, troubleshooting, and support services on a monthly basis.
---
"We have accelerated our time to market and reduced our build and deployment time by 55%, freeing our developers to focus on the task at hand, not the tools in hand."
– Gabriel Lima, Methodology ManagerItaú BBA
---
About ClearObject
ClearObject is a digital transformation leader in Internet of Things (IoT) Engineering and Analytics. As IBM Watson IoT and Google Cloud Business Partners, we deliver global embedded software development environments for our customers, and design and deliver unique data analytics digital products that help them recognize the value of their data. Our objective is clear: help the world's best companies build intelligence into their products and gain intelligence from them. The future is clear. Do you see it?
#manageditservices #managedserviceprovider #managedservice