WindAI for the win.
Allow your business to realize the value of vision intelligence with ObjectiO's pre-built wind turbine damage assessment model.
Engineering firms spend a lot of time reviewing and ensuring that a blade inspection is of the highest quality so they can recommend the necessary actions to keep assets operating. WindAI works to help you manage your inspection review process by providing engineers with an intuitive and simple UI, powered with vision intelligence, for understanding the information captured during the inspection.
"2020 was the best year in history for the global wind industry with 93 GW of new capacity installed – a 53 per cent year-on-year increase – but this growth is not sufficient to ensure the world achieves net zero by 2050. The world needs to be installing wind power three times faster over the next decade in order to stay on a net zero pathway and avoid the worst impacts of climate change."

– Global Wind Energy Council

ObjectiO's vision intelligence platform leverages thousands of wind turbine inspection images to create a damage assessment model.


Every image uploaded to the platform is automatically assessed for damage and a confidence level.

Engineers are able to filter out the noise and focus on the inspection results that need the most attention.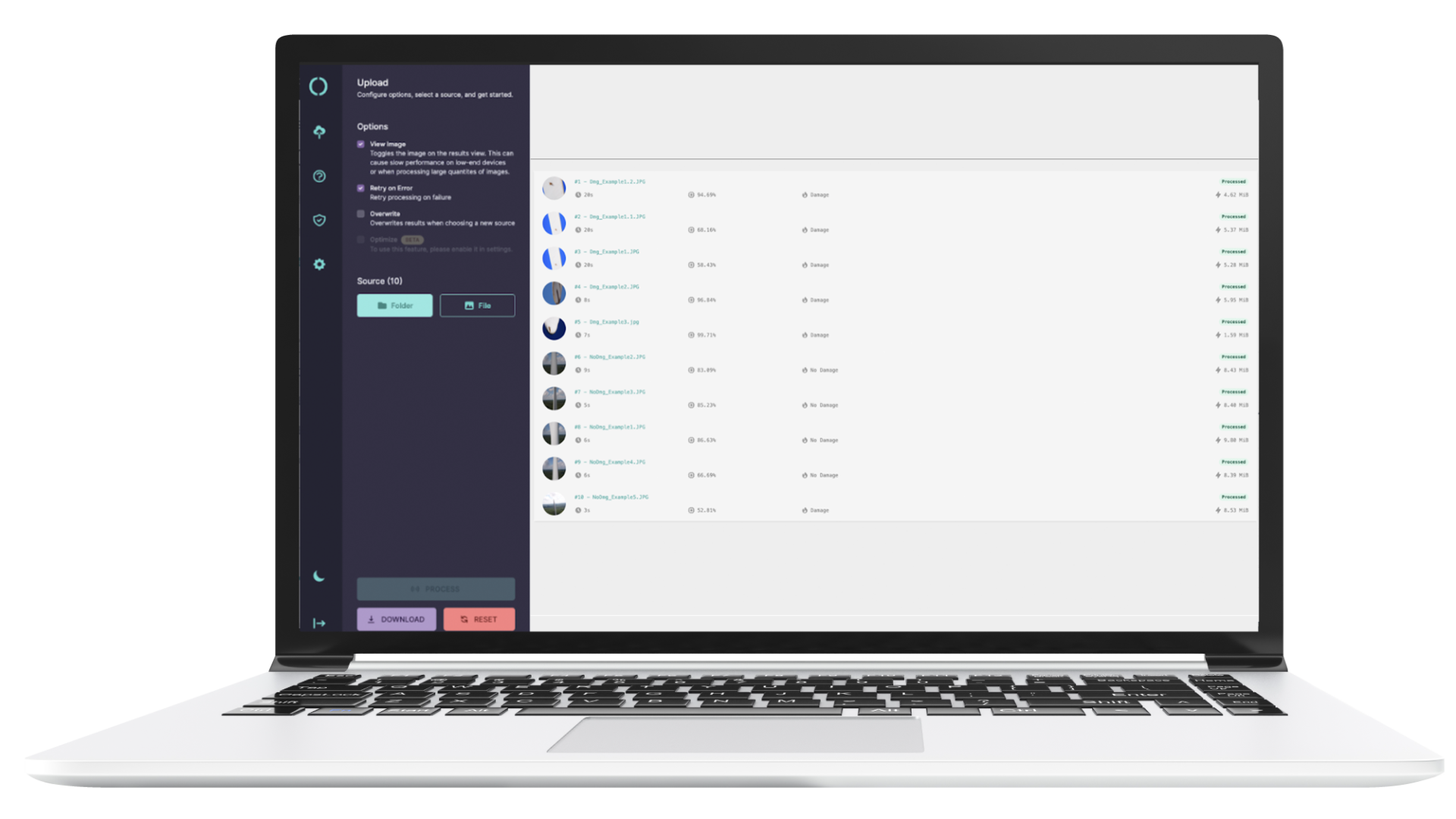 Our customers see at least a 50% reduction in the total number of inspection images that need to be reviewed.
The Future of WindAI is clear.
Our product is constantly maturing, and with each inspection completed on our platform it continues to get smarter. In the near term our Wind AI models will be able to detect damage type, classify the level of severity, and even provide information on the sizes of the defects. And, perhaps in the most exciting front of AI, we are also working to bring our technology to the edge. This will provide operators using drones to achieve new levels of quality and pace that would have otherwise been impossible.
How does WindAI make a difference for you?
No need to invest in a data science team to build your own model (this requires creating your own training set which, alone, could take years).
Reduce costs while improving accuracy.
Keep pace with competitors who are using AI.
Integrate simply and seamlessly with your existing inspection review process.
Reduce images that require no attention, thus keeping your inspectors from getting fatigued.
Reduce missing real events.
"By using [ClearObject's] vision Intelligence solution playbook to facilitate the quick development of accurate vision models, AES is another step closer to reducing its carbon footprint."

– Andrea Gluski, President & CEO of AES
Let's chat!

Are you ready to explore the benefits of turning data into valuable insights and tangible outcomes? Just looking to get some questions answered or a little advice on how to start? We'd love to talk with you! Send us a message using our contact form, and our team will get in touch.