2 minute read
Credit IBM for its ongoing mission to improve how software engineering and product development projects are managed.
With the beefed-up version 7.0 of its Enterprise Lifecycle Management (ELM) solution due for release this spring, Big Blue's aim is to help engineering groups develop products and applications even faster and more dependably. Building on the previous releases of IBM ELM, v7.0 will largely heighten the focus on requirements management and product quality and being able to maximize both throughout the development process.
Since transitioning (and renaming) ELM from its CE/CLM predecessor, IBM has touted ELM's enhanced tool sets for Requirements, Systems Design, Test Management, and Workflow Management. For software engineering and product development groups, ELM gives them greater insights into the engineering data and processes they need and improves capabilities for modeling and compliance.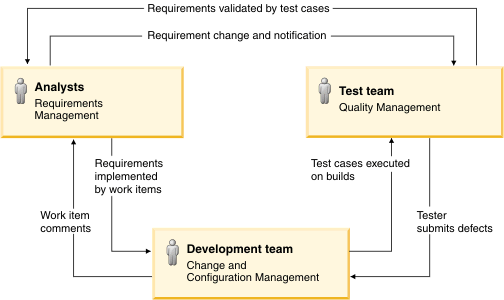 ELM connects analysts, developers and testers (image: IBM)
IBM has long understood these dynamics. But they've also realized that digital products and technologies like IoT and AI have changed the global environment for product development and software engineering as well as product engineering.
What IBM ELM v7.0 will bring to the mix
As IBM notes, ELM v7.0 is targeted to improve data scalability, authoring and accuracy for product development and software engineering requirements. Other improvements will give administrators greater flexibility to manage models and source code as well as documentation. And for development operations that plan to grow, v7.0 will make configuration and management easier for significantly sized deployments.
In effect, ELM v7.0 improves upon ELM's established ability to help software engineering and product engineering teams address the importance of industry standards for safety-critical systems; the quantity and difficulty of requirements; the structure and size of architectures, the number and depth of tests; and exponentially growing lines of code, especially in connected digital products.
Product development continues to get more complex
Steve Di Camillo is the IBM Watson IoT, ELM Partner Ecosystem Offering Manager, and he made two key observations about the development industry in a blog post last April when ELM was first introduced under its new name. "We recognize that product development is getting more complex while the product lifecycle is shrinking, customers are becoming more technically savvy and demanding, and compliance and regulatory requirements are growing," Di Camillo wrote.
"Over time we have come to see that the biggest challenges — and where we can offer the most help — are with teams addressing their engineering lifecycle: software engineering, certainly, and also systems engineering and the many other engineering disciplines that are necessary to create the amazing products and systems that power our economy today."
Both points have been continuous drivers behind IBM ELM thus far and are now just as prophetic for v7.0 — if not more so.
"Do we need ELM v7.0?" Our checklist from some IBM experts can help you decide
As it is with most any tool set for software engineering and product development, the question for IBM ELM v7.0 is, "Do we need it?"
To help you decide, we've developed an assessment checklist categorized by ELM's Requirements, Systems Design, Test Management, and Workflow Management capabilities. The checklist is the brainchild of a couple IBM experts who recently brought their industry expertise to ClearObject.
Ron Felice was a solution architect at IBM, where he worked for 14 years, and Jason Epstein is a 20-year IT industry veteran who has specialized in the Rational tool suite for the past 17 years. Ron is now a product owner in ClearObject's Engineering Product Development R&D group and Jason is a systems engineer for our Managed Services operations.
We urge you to download the checklist and put it to use.
Contact us
If ELM v7.0 does become an objective, contact us. We can move your existing product development environment for you, and can even manage it if you'd like with our IBM ELM Managed Services by ClearObject.
As both an IBM Gold Business Partner and the sole managed service provider for IBM SaaS globally, ClearObject brings knowledge and responsiveness together in the form of the IBM development process and IBM Support. Also as a single trusted source, we keep your environment for software engineering and product development healthy and performing at peak efficiency.
---
About the Author
Tom Bailey is the Content Marketing Manager at ClearObject and has been writing about innovative technologies in the software and engineering industries for nearly 25 years.
About ClearObject
ClearObject is a digital transformation leader in Internet of Things (IoT) Engineering and Analytics. As IBM Watson IoT and Google Cloud Business Partners, we deliver global embedded software development environments for our customers, and design and deliver unique data analytics digital products that help them recognize the value of their data. Our objective is clear: help the world's best companies build intelligence into their products and gain intelligence from them. The future is clear. Do you see it?
#softwareengineering #productengineering #productdevelopment #requirementsmanagement #ibmelm #managedservices